Fabric Comparison Chart
We want to be completely transparent about our fabrics and their eco credentials, so we have put together a simple comparison chart which includes our full fabric range including linings. Each eco criteria is outlined below.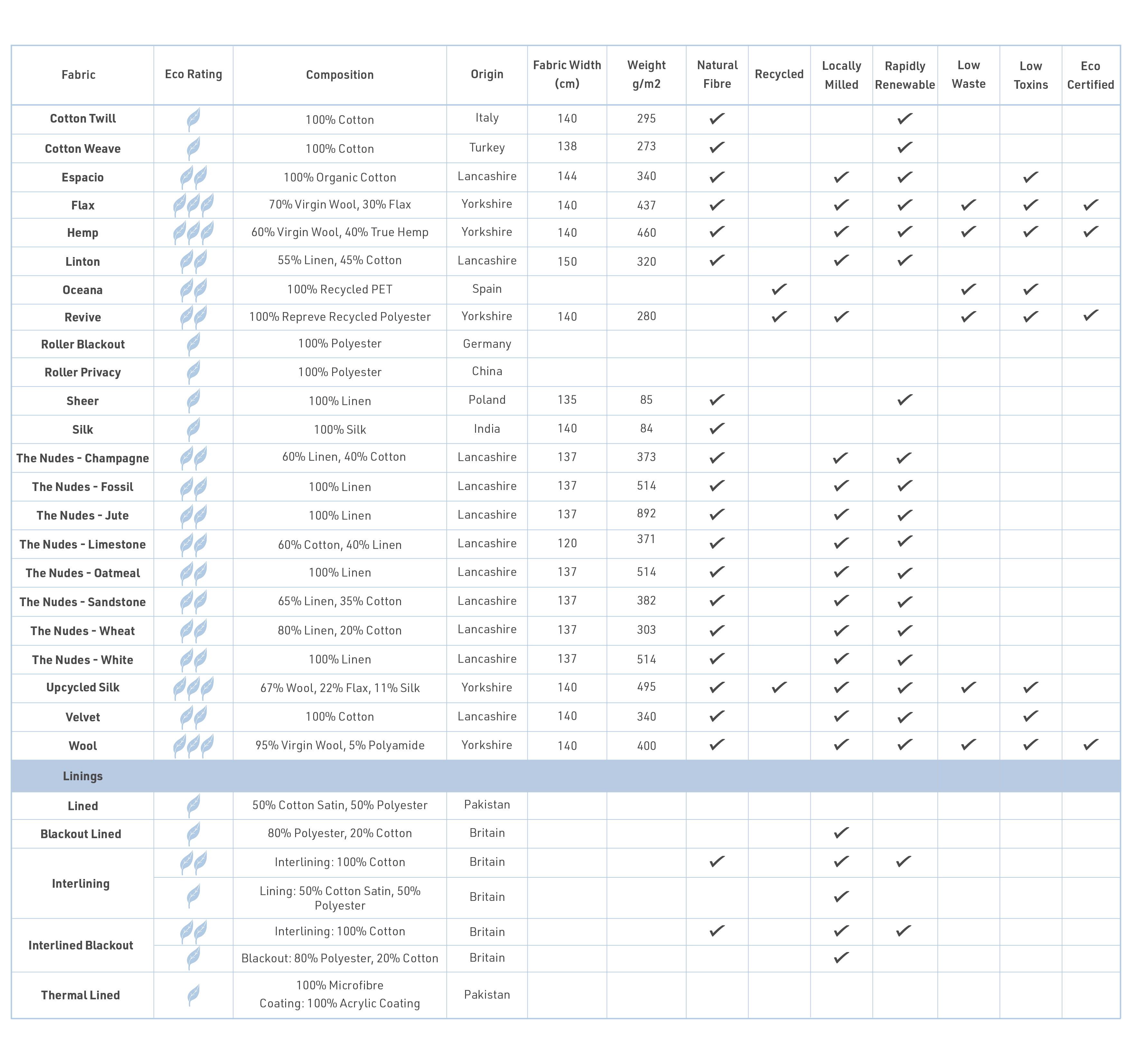 Glossary
Natural Fibre - Fabric is made of natural fibres extracted from plant or other biosources. Not all natural fibres are created equal, as a minimum our natural fibres must be biodegradable and/or come from rapidly renewable, environmentally sensitive sources. This criteria rules out certain natural fabrics that have undergone synthetic and environmentally unsustainable fabric extraction processes. Synthetic fibres and other non-renewable fibres many of which use significant energy and generate chemical waste in production. Natural-fibred fabrics are well ventilated and "breathable" which is the perfect match for made to measure curtains and blinds.
Recycled - Fabric is made in part from salvaged or recycled materials that are reused to create new products, which reduces the consumption of new materials and resources. Check out Marie's Stitched Home whose custom curtains are made from recycled plastic fabric Revive.
Locally Milled - Fabric is milled in the UK and shipped directly to our Merseyside workshop. This reduces the overall carbon footprint of your curtains or blinds, minimises fabric waste and helps support local industry.
Rapidly Renewable - Fabric is woven from natural fibres that regenerate rapidly and naturally without placing a strain on the environment. For example, Hemp a fast growing biomass, whose stems, after harvesting, are left to decompose providing rich nutrients for the following year's crop as an alternative to chemical fertilisers.
Low Waste - Fabric and its production process generates minimal waste including raw material usage, energy consumption and water usage. The UK alone sends 250,000 tonnes of textile waste to landfill every year landfill. Most of this fabric is synthetic fabric which emits harmful greenhouse gases (CO2 and methane) contributing to climate change and the rise of toxic substances that soil and groundwater sources.
Low Toxins - Fabrics employ no harmful chemicals in the fibre extrusion and dying process, and once made emit no or very low VOCs.
What is a VOC? VOCs are organic chemicals that evaporate or vaporise under normal conditions affecting the air quality of our interiors. They are a by-product of chemicals used in the manufacturing of a number of interior products like carpets, interior furnishings and paints. High levels can be hazardous to health but also contribute to global climate change too.
Eco Certified - Fabrics that have met the highest standards of environmental performance and been accredited by the European Commission. Environmental performance is determined by looking at the impact of the fabric throughout its lifecycle including cultivation, manufacturing, distribution, use and final disposal.