How wide should my curtains be?
You want to make sure that when your curtains are open they don't block your windows so that you can maximise natural light into your room. Each curtain heading type stacks back differently, as each heading uses different amounts of fabric. To make sure your curtains don't block your window when open, you need to add a few centimetres to the width of your window measurement -
Eyelet / Wave - Add 30cm per 1m of window frame
Pencil / Double Pleat / Triple Pleat - Add 40cm per 1m of window frame
Cartridge / Goblet - Add 60cm per 1m of window frame
Check out our table below or feel free to get in touch with our friendly customer team who will be happy to help if you have any questions - hello@stitched.co.uk / 0330 133 1455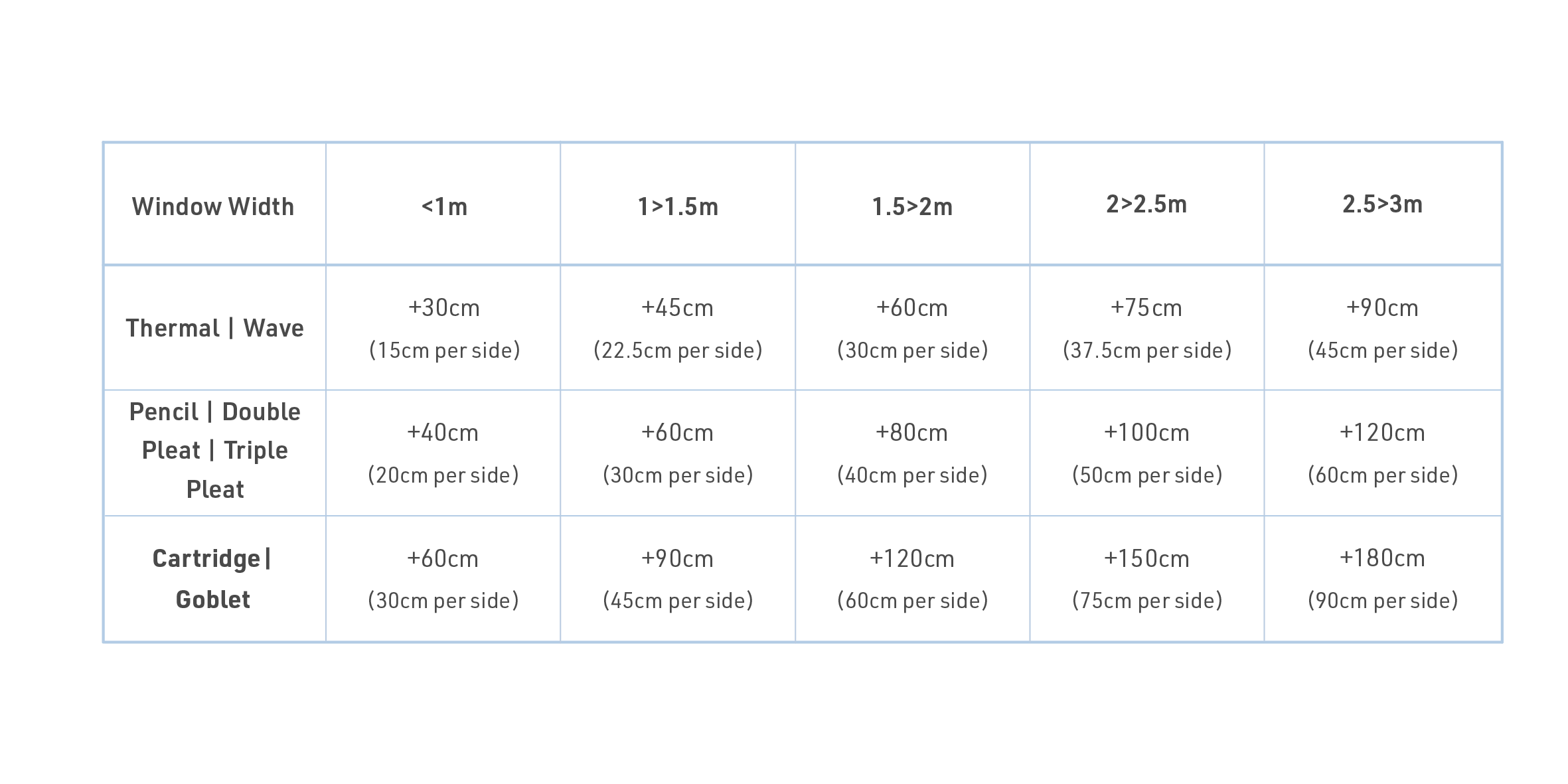 Should my curtains touch the floor?
It's up to you! Having short or long curtains is a style preference. If you opt for long curtains, we have three different types of pooling (sometimes called puddling) which determines the amount of fabric that gathers on the floor. See inspiration and more information here.
Are your products child safe?
Yes, all our products are made to UK legislation. We have more information on child safety here.
How do I measure with a curtain pole?
Measuring your window when you have a curtain pole already installed is really simple. Take a look at our measuring guide here.
How do I measure for eyelet curtains?
Measure from the top of your pole to the floor and add 3cm. Remember, your pole must be less than 3cm in diameter for the eyelets to fit!
What is the installation height?
We ask you for installation height so we can make sure your chain is at the correct height. Installation height is the measurement from where you want to install your blind to the floor.
How do I measure blinds for sash windows?
You can easily measure a sash window using our flat window measuring guide here. As sash windows tend to be in older frames, the width of the windows can often vary so it is really important to take the width measurement from both the top, middle and bottom and use the narrowest measurement. This ensures the blind doesn't catch.
How do I measure for blinds for french doors?
Most French doors are installed in a recess, so you can measure (i) the width in 3 places and take the narrowest measurement; and (ii) the height in 3 places and take the longest measurement. If the door opens inwards, you will need to make sure that there is enough space above the door to install the blinds (+8cm for a roller blind, +30cm for a roman blind). If there isn't enough space above the window, you will need to install the blinds onto the door directly. If you're struggling with your french doors, give our team of pros a call.